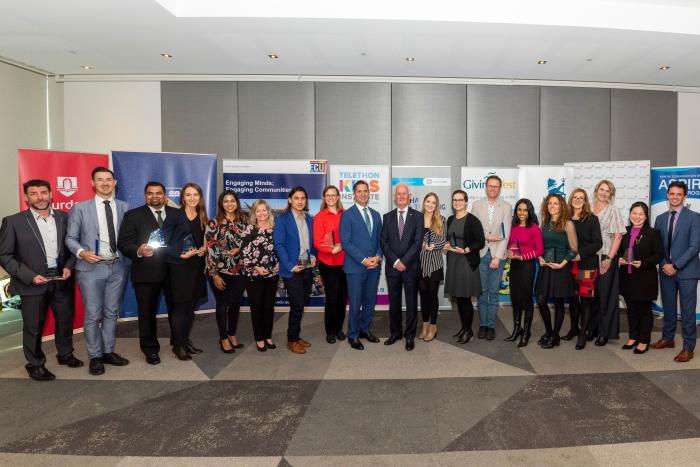 ANNOUNCING THE WINNERS OF THE 2019 ASPIRE AWARDS
14th June 2019
 
FOR IMMEDIATE RELEASE
The Perth Convention Bureau (PCB) welcomed the Hon. Paul Papalia CSC MLA, Minister for Tourism to present an award at the 20th Aspire Awards Ceremony, held on Wednesday 12th June at the Perth Convention and Exhibition Centre. With over sixty applications and ten awards available, there was strong competition from applicants to secure the opportunity of professional development funding to attend and attract pre-eminent conferences to Western Australia. 
These awards are a testament to the incredible academic pursuits of Western Australian's and the potential of our State. The Perth Convention Bureau is honoured to facilitate this research by supporting their work through professional development funds. It is also by virtue of this program that PCB is able to further its goals of attracting conferences to Western Australia that shine a spotlight on WA's research strengths.
Winning applicants and finalists joined a number of prestigious guests including The Hon. Paul Papalia CSC MLA, Minister for Tourism; Tourism Western Australia Chairman, Nathan Harding; City of Perth Deputy Chair of Commissioners Gaye McMath and Mayor of Fremantle, Brad Pettitt to celebrate the winners' achievements. PCB Acting CEO, Gareth Martin commented that "the program has been responsible for contributing more than 120 million dollars in delegate spend to the WA economy but more importantly, the program profiles the State's broad expertise and the diversified economic and social impacts from assisting leading researchers, clinicians and academics who are vital to the future of our State".
The City of Perth are a major sponsor of the Aspire Awards. Mourad Khalil, the winner of the 2019 City of Perth Convention Scholarship is a technology risk advisor in Perth and is dedicated to supporting development and innovation within our community. As the WA Branch Executive of the Australian Information Security Association, Mourad has led growth in the association here in WA, and seen their annual conference become the largest information technology and security conference in Western Australia. Additionally, he has been instrumental in the creation of the community based, volunteer-run cyber security festival, 'WA CyberWeek.'
Award winners included: Ana Doria-Buchan (Shipwreck Museum) and Cindy Cranswick (University of Notre Dame) winners of the City of Fremantle award; Dr Srimathy Vijayan winner of the inaugural Perron Institute Award; Hayley Passmore & Penelope Strauss (Telethon Kids Institute) winners of the Telethon Kids Institute Conference Award; the University Professional Development Award Winners; Francesco Lo Surdo (Edith Cowan University), Dr Renita Almeida (Murdoch University), Dr Marie-Lise Schlappy (The University of Western Australia), and Dr Justine Leavy (Curtin University); Thea Kurniawan (TEDxUWA) winner of Giving West Scholarship; Dr Vita Akstinaite (Murdoch University) and Jeremy Maher (City of Bayswater) winners of the Australian Institute of Management WA Conference Award and Serge DeSilva-Ranasinghe (WA DEFENCE REVIEW) and Josef Ignacio Czeschka Rojas (University of Western Australia) winners of the Defence West Award.
The event was supported by Perth Convention and Exhibition Centre, AVPartners and The Scene Team.
The Perth Convention Bureau welcomes interested applicants for 2020 to contact Malcolm Farrell-Mitchell at aspire@pcb.com.au  or visit website www.pcb.com.au/aspire.
ENDS 
Funded by the Western Australian Government through Tourism WA and by the City of Perth, the Perth Convention Bureau drives the business events sector in Perth and Western Australia by securing large, high yield conference events and marketing the City and State as a premium conference and corporate incentive destination.