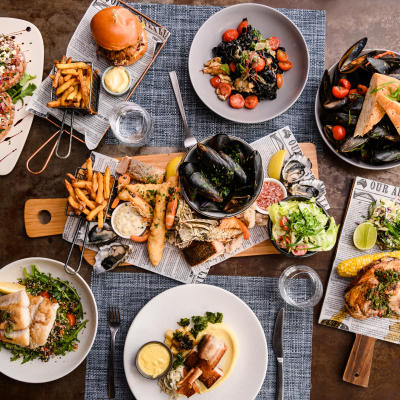 Change of licence, change of direction. Not only the name, but the entire concept of the heritage listed venue changed.
You can now drop in for bistro-style share meals, a larger range of beers, the same fantastic wine list and a new focus on cocktails.
BWG Steakhouse – the southern star of Perth's Fraser's Group of restaurant and function venues – announced today that it has changed its name to Bluewater | Bar | Bistro | Functions.
Established by Executive Chef Chris Taylor, BWG Steakhouse was known for its incredible steaks, as well as its stunning location. With spectacular views overlooking the wide flowing Swan River and sailing boats, the name change to Bluewater seemed a natural evolution.
The Fraser's Group team got the ball rolling early 2021, which sparked an avalanche of new ideas.
The concept for Bluewater is simple: it's all about being local. The focus is on bistro-style meals and pub classics with a casual food experience, utilising their open char grill. Although meat is no longer in the foreground, there will still be steaks of all kinds and the popular rotisserie chicken. Bluewater is fresh, flexible and full of variety, while still offering the usual high standard of service and offer as before. The menu becomes lighter and more share-able, with live music more frequent on weekends and bottomless brunches – all without losing that Bluewater edge for which it is known.
Bluewater is also changing the red colour scheme and soon introducing new furniture as well as a reconfigured bar.
The Tavern now holds a licence which allows customers to drop in for a drink. Nothing stands in the way of cocktail parties and other events that may have been hindered by the previously restrictive license.
Its doors are not only open to those who are hungry or thirsty for Applecross's finest. Bluewater continues to offer one of Western Australia's most spectacular event venues. From weddings, cocktail parties, corporate functions, Christmas parties and birthdays, to anniversaries and celebrating corporate milestones - Bluewater's unique location offers space for all kinds of events and a must-see view.
Chris Taylor is enthusiastic about the change in his southern star.
"Bluewater is not just another bar – it's the Western Australian lifestyle that we love and live. Relaxed, authentic plus local food and beverages in a simply unique location," Chef Taylor said.
Bluewater is now open from Wednesday to Sunday, offering all day dining. In the future, light breakfast and coffee will be offered from 8 am on weekends.
Mon – Tue: Closed Wed – Fr: 9 am – late Saturday: 8 am – late Sunday: 8am – 5pm
Facebook: Bluewater Bistro Instagram: @bluewaterperth Website: bluewaterperth.com.au Reservation: reservations@bluewaterperth.com.au Phone: 9315 7700