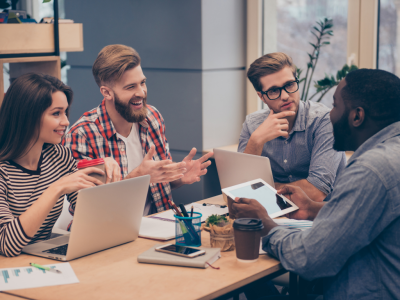 Corporate Challenge Events, Australasia's leading and largest team building and corporate training organisation, has launched a new workshop to reconnect and engage the post- COVID workforce.
A strong workplace culture is something that really sets an organisation apart from the rest. But how do you do that? According to general manager of Corporate Challenge Events Dwain Richardson, "You need a FUMISH culture!"
Based on 25+ years of experience in the industry, the recently launched FUMISH workshop is purposefully designed and developed to give workplaces the tools they need to create a workplace culture that sets their team up for success. Aimed at re-engaging a post- COVID workforce, the framework provides workplaces with strategies and support to make lasting changes.
The workshop is based on the FUMISH workplace culture model, and explores the fundamental attributes needed for a thriving positive workplace culture. According to Richardson, who is specialist in corporate training, team building and corporate group activities, "positive team cultures thrive on energetic relationships and connection, promote exceptional teamwork, empower and inspire one another to grow and provides environments that encourages opportunities to excel in your role."
So what is FUMISH?
"In short, a FUMISH culture is the driving force behind a positive team culture," Mr Richardson said.
"For a positive team culture to create success it must be friendly, understanding, motivating, inspiring, supportive and happy."
Armed with the theory, the FUMISH workshop deep dives into where an organisation fits within each of the frameworks and helps teams develop an implementable action plan that will set any workplace up for positive team culture success.
Through a flexible delivery approach (face-to-face or virtual); this forward-thinking workshop has left participating organisations with a truly FUMISH culture to be proud of. 
FUMISH Explained Further: