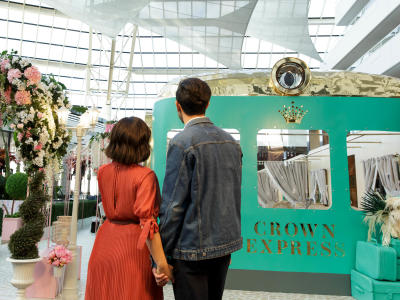 The world truly comes alive at Crown Perth this winter. Inspired by travel and international getaways, Crown's 'The World Comes Alive' campaign brings together the culture, flavours and excitement from overseas destinations that everyone so desires.
Crown's newest installation features the spectacular sights of Paris, Tokyo, Shanghai and the Amalfi Coast, with colourful photo moments to capture along the trail in the Crown Metropol lobby. Expect nothing less than a beautiful Parisian courtyard, an array of cherry blossom trees, lanterns, and a life-sized train carriage and dining cart named the Crown Express. 
Not shying away from the fact that international travel is at a halt, Crown is embracing this 'new normal' and bringing the world to life. What's more, Crown allows people to escape ordinary, acting as a way for people to connect with international holiday experiences and bring the culture and experiences that everyone is missing about travel.
Home to some of Perth's finest hotels, nothing feels more like an international holiday than a luxurious hotel stay. And with special winter packages and larger group discounts to choose from, you'll be spoilt with choice staying at one of Crown's three prominent hotels. 
Renowned for their world-class dining venues, Crown highlights their international flavours with exquisite French cuisine at Bistro Guillaume, contemporary Cantonese flavour at Silks, delicious Italian recipes at Modo Mio and a fusion of Japanese flavour at Nobu. If you're after something more private, Crown also offers an abundance of secluded dining room options perfect for any private event. From an exclusive teppanyaki table at Nobu to the luxurious Crystal Club dining room boasting unparalleled views, Crown will ensure guests have an unforgettable evening.
The perfect mix of business and pleasure, Crown continues to offer one of Perth's most spectacular event venues. From large-scale business events to corporate functions, conferences, exhibitions and intimate business meetings, Crown offers a range of venues and packages to suit every need. If their latest instillation is anything to go by, guests will definitely be in for a treat. With opulent ballrooms, spectacular meeting places, and sprawling outdoor venue offerings, a business event at Crown is hard to beat.