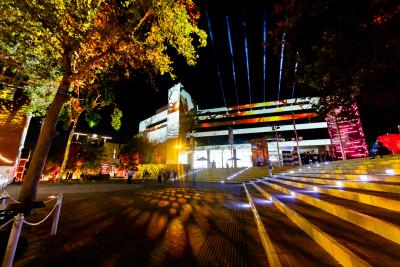 The Perth Cultural Centre was recently transformed into a world of colour, light, and sound for Perth Festival's City of Lights by Perth audio visual company, PAV Events.
The City of Lights is possibly Australia's longest running projection event, with 24 consecutive show days that ran from February 16 to March 14, bringing Northbridge to life. 
The Festival's commission featured short films, photography and animation projected onto the State Library, Perth Institute of Contemporary Arts (PICA), WA Art Gallery, State Theatre and the WA Museum Boola Bardip.
PAV powered an array of lights and moving images projected onto the buildings, creating a 360-degree immersive, walk-through experience.
Thirteen high-powered projectors illuminated the Perth Cultural Centre across eight projection sites, collectively providing over 200,000 lumens of brightness onto six building canvases.
"This year's City of Lights Event was an ambitious undertaking from Perth Festival in order to create a COVID safe event whilst maintaining the scale and wonder," said David Rayner, Group Event & Av Manager at PAV Events.
"City of Lights was created in Perth's Cultural Centre, which remained a public thoroughfare; this was key through the approval process. Technically speaking, the event emptied our warehouse of high-end projection equipment and pushed our R+D to its limits in order to find a solution for automated playback and start-up.
"Synchronised projection was displayed on six buildings with an accompanying audio soundtrack. Huge credit goes to our technical staff for ensuring all projection sites had zero down time over the 21 show days." 
The projection, lighting and audio were synchronised via a fully time-coded playback system designed many months in advance by PAV Events AV experts, Jeremy Turner and Matt Marshall.
Over a year in the making, the design of the Cultural Centre projections was a significant and complex undertaking with projector installations on purpose-built towers and building roofs.
Over 1km of 4-core fibre optic cabling connected all sites to a central control room, which had remote monitoring and was controllable from anywhere in the world.