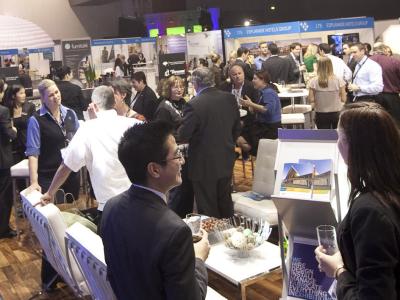 Timing could not be better for the Perth Event Show! With the uncertainty during 2020, the organisers, CMS Events, are keen to put events back on the agenda for planners, with the live exhibition providing face-to-face business as an important marketing medium. For those that cannot attend the Expo, there will be a virtual program providing streaming of the seminars, and presentations from exhibitors and sponsors.
Planning for the Perth Event Show commenced in 2019, but with the outcome of restrictions in 2020 hitting the industry hard, the exhibition was placed back to August 18 and August 19 this year with the change of format introducing live streaming and virtual options.
Whether you visit on the day or through the streaming program, CMS Events recommends attendance as a valuable working tool for anyone planning an event or wanting solutions for events, festivals, exhibitions, conferences, and business needs.
Onsite benefits: Exhibitions are an established and a cost-effective marketing medium using face to face communication as the best way to form and retain business relationships. People attend exhibitions because they have a need and are in the process of making decisions and buying. Exhibitors can better demonstrate and explain the benefits of their services and products. You can start conversations!
Streaming benefits: While face-to-face business is an important medium, for those that cannot attend the Expo, the streaming program means they can still access information and get exposure to the industry and companies involved. The experience and exposure can trigger action with connection to exhibitors.
The Perth Event Show is now perfectly placed to help kick start the industry in Western Australia, as people plan for 2021 and 2022 and beyond. Exhibitors have had time in recent months to reassess their market delivery and priorities, with attendees now in a more open position to review how they go about their events.
The Perth Event Show presents a showcase of the products, services, information and education available for event managers and event planners. It creates a forum, whether people are new to the industry or seasoned managers, they can update their knowledge of what and who is in the marketplace. Marketing events through events is a logical platform to build business and sales.
The event will provide a major awareness of the events industry in WA, its services and suppliers, along with promotion of the Events Industry Association as the peak industry group in Western Australia.
The exhibitor base includes associations, catering, display, education, entertainment, equipment, government, management, marketing, media, promotional, services, social media, staging AV, technology, theming, tourism, transport, venues.
The Perth Event Show is registered as an approved event for the national Business Events Grants Program providing support for exhibitors and sponsors.
Perth Event Show
18 – 19 August 2021
Wednesday:      Exhibition 12.00 – 4.00, Network Event 4.30 – 7.30
Thursday:            Exhibition 10.00 – 3.00
Perth Convention and Exhibition Centre
www.pertheventshow.com.au
CMS Events 08 9201 9888
info@cmsevents.com.au