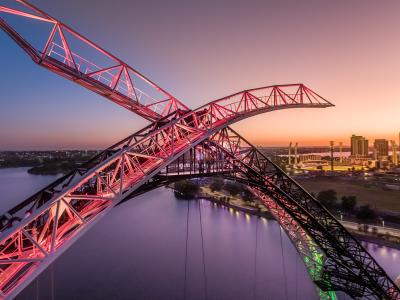 Matagarup Zip+Climb was in the national spotlight this month after playing host to Sunrise weather presenter Sam Mac as part of a visit arranged by Tourism Australia and Tourism Western Australia. 
As part of the itinerary, Matagarup Bridge was chosen as the backdrop for the Sunrise weather crosses one weekday morning, broadcast to more than 1 million people across Australia. 
After a chilly 2am start, the Matagarup Zip + Climb team took Sam Mac and his crew up the bridge before helping to deliver four live crosses to the Sunrise news desk in Sydney.  
It wasn't just the bridge attraction that was showcased – there was wine tasting with Sandalford atop the bridge and a performance by WAAPA students to round out the West Australian experience.
Matagarup Zip+Climb General Manager Ryan Zaknich said they were delighted to participate and help amplify other West Australian brands to the national audience.
 "I think the weather cross was a great opportunity to show the east coast audience that WA is still here, we're open for business, and we've got a lot of exciting tourism products on offer for all types of visitors."