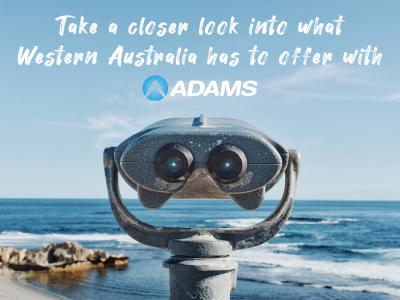 ADAMS are excited to announce the launch of a suite of fantastic new day tours, aimed at getting locals Wandering Out Yonder in their own backyard. 
The new tour offerings have been developed to encourage Western Australian's to reconnect with some local attractions they may not have visited in a long time or never even experienced before.
ADAMS will be operating regular departures initially throughout October, November and December, with the new tours to concentrate on showcasing wonderful local Western Australian produce and attractions, the majority fellow Business Events Perth members. 
Whether it's the dolphins of Mandurah, the iconic Jetty at Busselton, the stunning Gravity Discovery Centre at Gingin or the local produce in York or Cervantes, all the true heroes of Western Australia will be showcased.
Although shorter in duration and extremely competitively priced, all tours will be operated on ADAMS luxury 5-star luxury vehicles, with full commentary by their industry leading drivers, and two pick up points for added convenience – Perth Train Station and Crown Perth.
Available tours
Discover York
Gingin Stargazing
Busselton Jetty and Underwater Observatory Day Out
Mandurah Dolphin Cruise Day
Explore Lancelin and the Pinnacles
New Norcia and the Chittering Valley
Gravity Centre Wildflowers and Gingin
If you require further information access all tours and itineraries at www.ADAMSPerth.com.au or contact Graeme Skeggs at graeme.skeggs@goadams.com.au