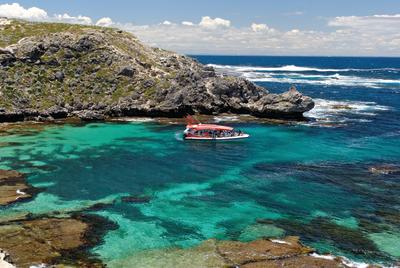 It's that time of year when humpback whales are causing a spectacle in the waters surrounding Rottnest Island, and Rottnest Express are providing front row seats to the show.
With 41-seats available on Rottnest Express' purpose-built open-air vessel, the Eco-Express, incentive groups can experience an eco-experience like none other in what is shaping up to be a stellar season of whale watching just off the coast of Perth's iconic Rottnest Island.
Departing from Rottnest Island Main Jetty the Whale Watching Adventure Boat Tour takes delegates on an intimate commentated wildlife adventure of Rottnest Island.
Delegates will be able to feel the salt breeze in their hair on this 90-minute tour as they zip around the rugged coastline of Rottnest Island in search of breaching whales, curious ospreys, friendly New Zealand fur seals and the other vast marine life that frequents Rottnest Island's waters.
Take a ride to the wild side of Rottnest Island and see the island from another perspective. For more information on group bookings, contact groups@rottnestexpress.com.au