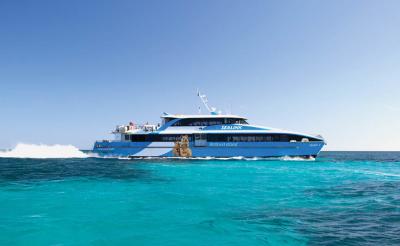 November saw the arrival of a new vessel for SeaLink WA, extending their fleet to allow for the first direct service between Perth and Rottnest island.
The launch was highly successful and well-timed for the busy season, taking tourists and locals alike direct to Rottnest from the CBD without stopping.
Originally named 'Maggie Cat' and renamed 'Quokka 2', this sleek catamaran is licensed to carry 200 passengers, while it's big sister 'Quokka 1' can take 400 passengers over to the island.
A team of five from SeaLink's WA crew travelled to Sydney to collect her and sailed her back on an epic journey through stormy weather in time for an industry launch party, where Tourism Minister Paul Papalia CSC MLA and many of SeaLink's fellow tourism colleagues came together for the 'Quokka 2's' maiden voyage on Perth waters.