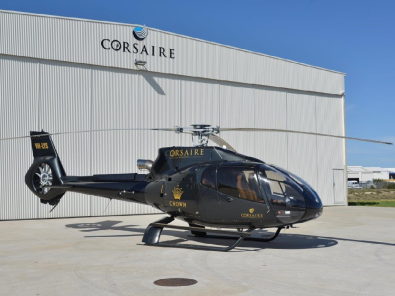 Corsaire Aviation's iconic 'Bumblebee' has transformed!
During the COVID-19 lockdown, Corsaire's helicopters received a well-deserved rest, and for one, a spectacular refurbishment.
Corsaire's flagship machine, the Eurocopter EC130, is the only one of its kind commercially available in Perth, and Corsaire are proud to be revealing its new look. Many may not know that along with regular servicing intervals, all helicopters require a full rebuild every 12 years. The 130 was due, and Corsaire took the opportunity to re-paint the machine and re-upholster the interior. Corsaire's in-house maintenance department along with a few external contractors did an incredible job and she has taken to the skies once again.
Over the last 18 months, Corsaire Aviation has secured several contracts servicing oil and gas companies, the mining sector, and tourism industry. The successful bid on these contracts has led to the purchase of three AS355 twin engine Squirrels, one Cessna Citation Bravo, one Bell 206 Jet Ranger, and one Robinson 44. With tourism enquiries slow, the company has adapted to the market increasing by FIFO flights ensuring passengers arrive to site on time and without cross contamination from other passengers.
As the COVID-19 crisis developed in Western Australia and tourism came to a complete halt, Corsaire was engaged by the oil and gas industry and medical industry to provide much needed support in transporting passengers, machinery, medical supplies and engineers around the State to ensure minimal disruption to services. As the hospitality industry slowly regains momentum, Corsaire are thrilled to be taking WA locals to the skies to enjoy our State and everything it has to offer. Corsaire are pleased to once again be offering their scenic helicopter flights from Crown Towers Perth, Hillarys Boat Harbour, and Jandakot Airport. They have also recommenced day tours to Margaret River, the Swan Valley, Rottnest Island, Jarrahdale, Cervantes and beyond.
Despite the uncertain times, Corsaire are pleased to be supporting Western Australian businesses from the Kimberley to the South West in every way they can and are hopeful that WA can stay positive and stay safe.
Article submitted by Corsaire Aviation