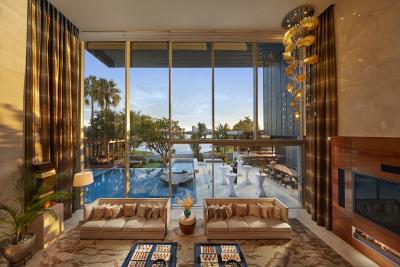 Crown hosted a spectacular event in May showcasing Australia's most impressive venue, The Mansions. Guests enjoyed pre-dinner drinks on the expansive outdoor terrace overlooking Perth's picturesque city skyline.
The Mansions live up to their name in every way. From the private driveway and gated entrance, to the dramatic double height front door that opens onto the grand two storey foyer, they are unquestionably Australia's most luxurious event offering.
The split-level living and dining rooms offer guests several seating areas to entertain, from an intimate gathering of 12 at the dining table to a larger party of 60 banquet style or 150 as a cocktail setting.  The adjoining butler's kitchen allows guests to entertain in exceptional style complete with legendary Crown service.
Complete with an infinity pool, undercover outdoor dining area, three bedrooms, The Mansions are the ultimate event space to create a bespoke, tailored event experience that will simply leave guests speechless.