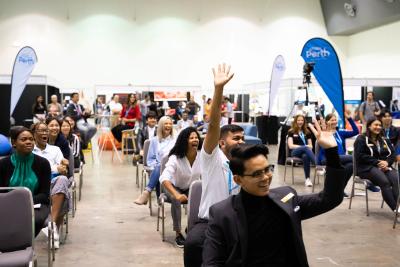 In the space of only five weeks, Perth's Encanta Event Management planned, coordinated, and delivered the successful StudyPerth International Education and Careers Expo at the Perth Convention and Exhibition Centre on 9-10 October.
Managed by recently appointed Director West Coast Events Jade Riolo, the exhibition attracted 1100 registrants from Perth, interstate and overseas who attended either in-person or online.
"We signed the contract with PCEC in early September, and in that same week created the floor plan and began selling exhibition space, which almost immediately began to sell out- within a week we were revising the floor plan to accommodate the demand from exhibitors," said Ms Riolo.
"We eventually had to cut off exhibition registrations as we could no longer adjust the floor plan to bring in more exhibitors- we ended up with 54 exhibition booths instead of the originally anticipated 40."
As a hybrid exhibition, Encanta worked with audio-visual provider AVPartners to manage a virtual event platform, with many students attending and meeting with exhibitors online through the use of EventsAIR OnAIR software, including AIRCast studio features, which was also used to stream live presentations from the Main Stage (within the StudyPerth exhibition) for online attendees to view and revisit at a later date.
PCEC General Manager Nigel Keen said that he was pleased to be hosting events in Western Australia once again, made possible with proactive COVIDSafe Principles.
"I would like to congratulate Encanta and their Director of Events Jade Riolo for successfully launching an inaugural exhibition during COVID-19," said Mr Keen.
"Their ability to pull this off during these times clearly demonstrates, that with collaboration, stakeholders that have a clear shared vision can deliver a positive exhibitor and visitor experience."
The team at Encanta prepared a full COVID safety plan for the event that included an on-site attendee policy, an exhibitor policy, a plan of action in the case of an infected delegate, and venue safety measures including hand sanitising stations, physical distancing markers, and QR code scanning of delegates upon entry to ensure contract tracing would be possible if needed, whilst also ensuring all onsite suppliers had their own safety plans in place.
As the first major exhibition in Perth since the easing of restrictions, it was exciting for all involved to experience the joys of meeting and networking face-to-face, and virtually, in a safe environment.