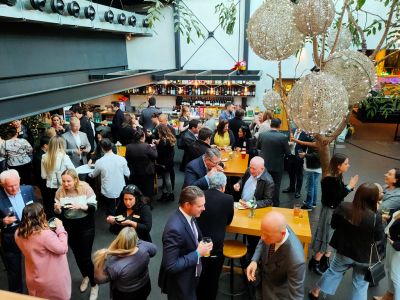 With restrictions easing in Western Australia from June 2020, the team at Encanta Event Management decided to start the new financial year with their first Encanta COVID-19 safe live event, hosted at the Subiaco Hotel on 9 July.
With an aim to bring industry colleagues together, Encanta wanted to celebrate being able to hold small events again, as well as showcasing that in a controlled environment and with COVID-19 measures in place it is safe to do so.
After brainstorming all COVID-19 factors that needed to be considered and a number of venue options were sourced, Encanta chose a more casual venue to fit with their "First Drinks on Us" theme. All venues contacted were well-versed in the WA government's COVID-19 regulations, and were more than happy to be guided on individual portions for the event catering requirements.
With safety procedures in place to ensure the wellbeing of all guests, the event featured Encanta branded sanitiser bottles, and for an added fun factor, different coloured wrist bands were available on entry to allow guests to show whether they were playing safe, accepting elbow bumps, or happy to hug.
Encanta thoroughly enjoyed being able to reconnect with their event industry friends and look forward to hosting the next one in the not too distant future.
Article submitted by Encanta