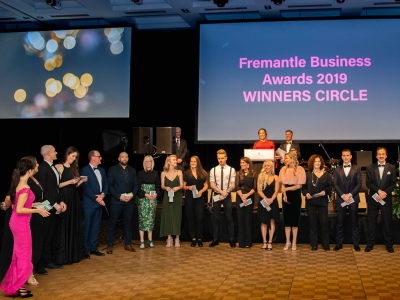 The Fremantle Business Awards bring together and reward Fremantle's most unique, distinctive and inventive business leaders.
The Fremantle Chamber of Commerce is actively connecting, uniting and assisting in the growth of a successful and vibrant business community that builds on Fremantle's unique advantage, its heritage and its maritime focus.
The Fremantle Business Awards 2020 are themed around the feast of different and diverse business offerings, and the networks between the greater Fremantle business community as the Chamber plans for a new future.
The Awards Ceremony is scheduled for 20 November 2020 at a surprising new venue, and will truly reflect the diversity of Fremantle.
Fremantle Chamber of Commerce Chief Executive Officer Danicia Quinlan said of that the 2020 had brought unprecedented change to Fremantle's local economy and business community.
"This important event in our annual calendar is a wonderful way to put the spotlight on those businesses, and their leaders, that have responded to the changes thrust upon them and have adapted to new ways of working and supporting each other," said Ms Quinlan.
"We encourage all businesses to put forward a nomination, or to nominate another business within the Greater Fremantle area – now is truly the time to reflect and celebrate what we have achieved".
There is no better time to recognise those business leaders who have navigated their way to the other side using the resilience, creativity and extraordinary talent for which Fremantle business is known.
The Fremantle Chamber of Commerce invites you to be an active part of their connected business community and nominate yourself, or an outstanding Fremantle Business, via the website; nominations close at 5pm on 20 September 2020.
Award Categories
Leadership - Sustainability Initiative
Leadership - Contribution to Fremantle (Individual/Business)
Marine, Engineering & Defence Industry Excellence in Project Delivery
Excellence in International Trade - Exporters and Importers
Excellence in Creative Industries
Commercial/Residential Property Development Award
Excellence in Community & Service Industries
People's Choice - Best Hospitality Experience
People's Choice - Best Attraction (including Events)
People's Choice - Best Retail
People's Choice - Best Local Product
Article submitted by Fremantle Chamber of Commerce