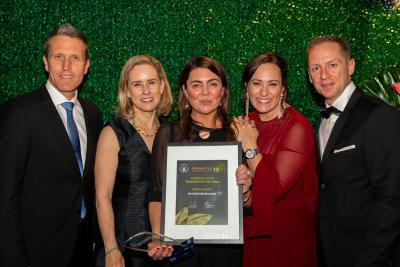 The Fremantle Business Community gathered last month to celebrate the achievements of Fremantle's exceptional and diverse business leaders at a gala dinner at The Esplanade Hotel Fremantle by Rydges.
2019 marks the 11th year of their popular awards in what judges have described as one of the most tightly fought contests the panel has seen.
Fremantle Chamber of Commerce CEO, Danicia Quinlan, explained:
"We revamped the awards program this year to focus on the fresh approach and growth opportunities within Fremantle, and what makes Fremantle businesses truly distinct and unique."
A group of 20 finalists were selected by the judges scores to form the 2019 Fremantle Business Winners Circle, with three winners selected as Fremantle Ports' Business of the Year, Business Foundations' Growth Scholarship Winner and the People's Vote for best Fremantle Experience.
The WA Maritime Museum took out top honours on the night for their innovation and outstanding contribution as a growing attraction for Fremantle. 
With exciting events including Kylie on Stage, LEGO Brickman Cities and the world premier Antarctica  VR exhibition, the museum has had an incredible 12 months with visitor attendance up by 37%!
The Raw Kitchen's Zero Store won the Business Foundations' Growth Scholarship Award and the Mayor's Award for Sustainable Enterprise as the largest zero waste and plastic free store in Australia.
Local South Fremantle favourite, Percy Flint, took out the People's Choice vote, with La Sosta, Sweetwater Rooftop Bar, Kazoomies and Palace Patisserie taking out the People's Choice individual category awards.
Click here for full list of Fremantle Business Awards winners: http://bit.ly/2MKKhXe