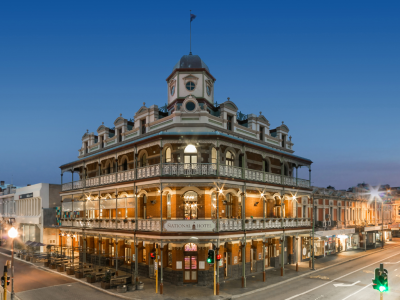 Given that we can't welcome interstate and international delegates to WA, it's time to focus on the extraordinary hotels, venues and experiences right on our doorstep. Fremantle is a case in point, and it's undergoing a once-in-a-generation transformation thanks to a huge level of public and private investment.
A hospitality renaissance
There is an unprecedented level of sophistication building in Fremantle's hospitality and venue offerings–as historic spaces and buildings are converted and repurposed for the 21st century while retaining the character and patina of their past.
The Old Synagogue opened its doors in November 2019, at the top of the iconic Cappuccino Strip, with four different offerings on the one site–a restaurant, multi-level beer garden including a rooftop deck, basement cocktail bar and a casual front bar.
Freo.Social is an ambitious, multi-faceted venue being managed by Triple-1-Three, the team behind Otherside Brewing Co. After extensive renovations it now includes an onsite microbrewery, 550 person capacity entertainment hall with impressive in-house AV set up, breakout spaces and beer gardens.
Fremantle is host to a large range of other unique event venues catering for small groups and bespoke experiences right through to large conferences and corporate events.
Tours and experiences
There are many layers to the historic port city of Fremantle. Its connection to Western Australia's indigenous history, European explorers, immigration, mining, the fishing industry, arts and culture make it a destination that holds a place in the heart of many Western Australians.
It is this remarkable history, the unbelievable tales of miraculous escapes, stories of ghosts and haunted buildings, the connection to the sea, adventures and adversity that provide a rich source of inspiration for local entrepreneurs through tour product including Fremantle Tours, Fremantle Prison, Two Feet & A Heartbeat, Charter 1 and Escape Hunt.
Hotels
Nine hotels with over 700 rooms across Fremantle increases the city's capacity to host corporate guests. Many are new or completely refurbished with stunning views over the ocean or Swan River. All are within walking distance of the vibrancy, spirit and soul that Fremantle is known for.
The latest to undergo a transformation is Quality Suites on Bannister Street. A significant refurbishment of the property was completed late last year and in September 2020 they relaunch under a new masthead of Bannister 22 Hotel.
Be. Fremantle located on the southern most tip of Fishing Boat Harbour, with ocean and harbour views from every apartment, have just picked up a TripAdvisor 'Travellers' Choice Award' for the 5th consecutive year.
Quest Fremantle Apartment Hotel have introduced new food and beverage guest services; their pantry shopping service enables guests to have their staple pantry items in the room prior to arrival and topped up throughout their stay. They also offer a charge back service with a number of Fremantle's restaurants, cafes, bars and pubs.
Ever wanted to stay in one of those trendy shipping container hotels you see in Europe? There is one right in the heart of Fremantle, The Hougoumont Hotel is boutique in every sense of the word and captures Fremantle's unique connection to the sea.
Western Australia's favourite maritime city is ready to embrace and welcome intrastate conference and event business. In an industry where clients are looking for something unique and memorable Fremantle presents the business case you're looking for.
Bannister 22 Hotel | Be.Fremantle | Esplanade Hotel Fremantle by Rydges
Hougoumont Hotel | National Hotel Fremantle | Quest Apartment Hotel
Pier 21 Apartment Hotel | Seashells Fremantle | Tradewinds Hotel
Article submitted by City of Fremantle