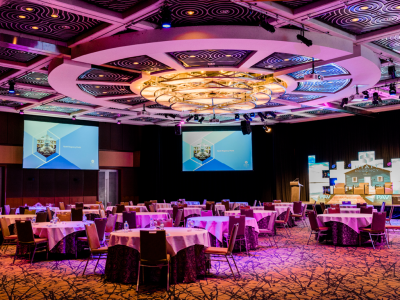 Hyatt Regency Perth hosted a showcase for event clients in June to allow them to experience the hotel's enhanced measures for guest's safety and peace of mind.
Hyatt's in house audio visual partners PAV Complete Event Solutions also showcased live streaming event options to link across venues within the hotel or off-site locations.
Enhanced event measures include:
Event Concierge App offered to the on-site contact for safe and easy communication with hotel colleagues
Routine cleaning between each meeting session and at break times
Hand sanitiser dispensers for guests' use
QR code menus
To-go beverages and menu upon request
Use of mask and gloves by all colleagues when preparing meals and plating dishes
Placement of cutlery inside napkins
Social distancing signage and markers in public areas
In addition to this, all hotel staff have completed the AHA (WA) Hygiene course and the property has appointed a dedicated hygiene officer to ensure compliance of new protocols and regulations. All staff also have a body temperature check each time they enter the hotel.
For more information or to host your next event at Hyatt Regency Perth, contact PERTH-Event.Sales@hyatt.com.
Article submitted by Hyatt Regency Perth