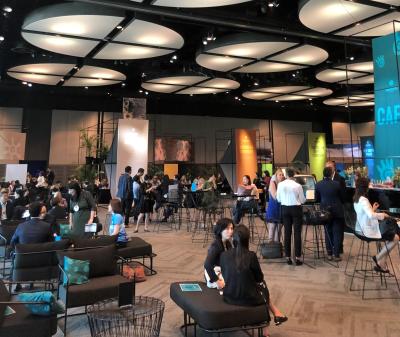 One of the biggest tourism events in Australia, delegates from 11 international countries and 25 interpreters needed was the perfect opportunity for the KP International Translators team to showcase their proficiency and expertise in communication.
KP International Translators was proud to be involved in the Dreamtime Business Sessions and had no issue in assisting in the communication of delegates from China, South Korea and Japan. Their role throughout the event was vital, bringing along a fantastic team of 25 interpreters ready to interpret and translate different facets of Perth, both from a business point of view and from cultural experience. Each of KPIT's qualified interpreters had studied and prepared extensively before the event. Their added enthusiasm towards the Dreamtime event was a bonus for KPIT.
"Dreamtime is such an amazing event and I feel proud to be part of it by serving as an interpreter. It is a wonderful experience. Thank you for providing this opportunity," said Sally, a Mandarin media interpreter.
KPIT worked with Tourism Australia to ensure overseas guests truly experienced the best of Perth. The role was very individualized, with each visiting delegate assigned an interpreter for the whole day, ensuring KPIT's interpreters had the opportunity to prepare themselves for their specific representative. This personalised approach resulted in professional presentation and efficient interpretation throughout the entire day.
"I enjoyed working at the event. It was very interesting and well organised event in many aspects. I believe the Japanese clients were also happy, as I heard a lot of positive comments during the day," said Etsuko, a Japanese interpreter.
While it was all business at the Perth Convention and Exhibition Centre, there was time for leisure throughout the day as media representatives were given the opportunity to explore some of Perth's newest venues. Lunch was held at one of the city's top restaurants Wildflower at Como The Treasury, followed by a Captain Cook Cruise along the river and past Perth's impressive new landmark, Optus Stadium. Two of KPIT's skilled interpreters tagged along with some of China representatives as they dined, laughed, explored, and discovered Perth.
"It was my honour to work with a such good team. I have had a great experience working with Dreamtime and the Chinese clients," said Seria, one of KPIT's Mandarin interpreters.
The day was a huge success and KPIT were pleased to receive many accolades for their professional and personalised language services.