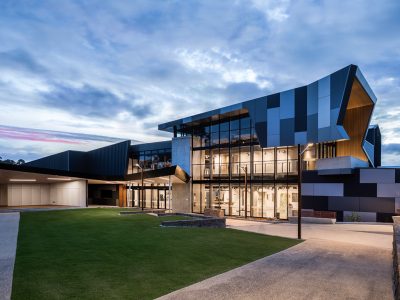 The Margaret River HEART is the newest addition to conferencing and entertainment venues in Western Australia's South West.
With a rich, long-standing connection to its thriving arts and cultural community, Margaret River is a growing destination for a diverse range of creatives from near and far.
The Margaret River HEART has multiple spaces designed for plenary, small meetings, trade exhibitions, music concerts, cinema screenings, theatrical productions, cocktail parties, community events, award ceremonies, art exhibitions, workshops, and much more. The main theatre seats 446 (including four wheelchair spaces) in its fixed raked seating, and the smaller, more versatile studio theatre seats 150 theatre style in chairs.
The facility also has a beautiful foyer space where both local and regional artists are encouraged to exhibit, with hanging rails perfect for art exhibitions and an adjoining bar/servery area for social events like opening nights and gatherings.
The building incorporates sustainable design features and has been benchmarked as 4 Stars for its green Star Design Rating. Materials used are of the highest quality and suitability to achieve energy efficiency and low maintenance costs. The design incorporates recycled materials including beams and bar furniture fashioned from wood used in the original theatre and squash courts.
The team will host Australia's annual Global Eco Asia-Pacific Tourism Conference from December 1 – 3, 2020.
The conference will be the venue's first business event and represents a significant step towards the recovery of the region's tourism industry.
Organisers are hoping over 100 delegates including leading tourism industry operators, ecotourism professionals, tourism bodies and researchers will take part in the world's longest running ecotourism conference to foster ideas and innovation for a sustainable future. Margaret River Busselton and Tourism Association has procured the contract thanks to partnerships with Shire of Augusta Margaret River, Tourism WA, the Department of Biodiversity Conservation and Attractions, and the South West Development Commission. Support has also been offered by Business Events Perth.
For more information about Margaret River HEART, please visit margaretriverheart.com.au or contact Nicky Hansen, General Manager on nhansen@margaretriverheart.com.au
Article submitted by Margaret River HEART