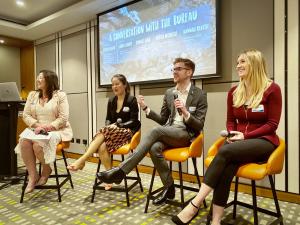 On 23 October, the Perth Convention Bureau hosted our biannual Member Educational at the Doubletree by Hilton Perth Northbridge.
The event had a new format to previous events, this time featuring a panel session hosted by Tracy Baker of the Perth Convention and Exhibition Centre, including members of the PCB Business Development team to allow an open forum for discussion between members and the Bureau.
"The aim of changing up the format of this educational was to put our members in the driver's seat to provide more buy-in from them so that they could drill down to what is important to their business models," said Danielle Mauro, PCB Membership Manager.
"We felt that it would provide a platform where they were comfortable to ask questions and also draw knowledge from their industry colleagues in the room."
Prior to the panel session, Linda Adams of the Associations team and Connie Ling from Corporate & Incentive provided updates on how things are tracking within their relevant departments, while Danielle Mauro and Christine Parker gave a Dreamtime update. and Malcolm Farrell-Mitchell talked about the bright future of the Bureau's Aspire Awards Program and new Ambassador Program.
PCB members need not wait for an Educational to talk to us about how we work and how to become more involved, we encourage you to call us at any time.
Special thanks to Doubletree by Hilton Perth Northbridge & Encore for their assistance with this event, and David Broadway for taking some great photos.
If you missed this Educational, keep an eye out for our next one in early 2020.