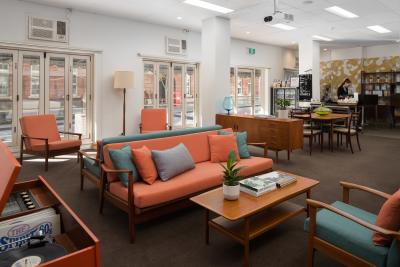 Pensione Hotel has recently completed the rejuvenation of their ground floor areas to create bright, open and useful spaces for their guests.
These newly refurbished areas are dynamic and welcoming to Pensione's guests whether they're catching up on work, connecting with friends and family, or relaxing with a book and barista made coffee in the sunshine.
The hotel was built in 1964 by the Salvation Army, and was originally named the Railton Temperance Hotel, and from its conception has encouraged people to make connections with each other. Pensione Hotel has remained true to its roots, and the 60s vibe is reflected in the vintage, fully restored furniture, the handpicked, original 1960s playlist, and classic 1960s décor which have become fond and exciting talking points for guests                                                                                                          and staff alike.
Salvation Coffee, the hotel's new guest lounge and coffee window, has teamed up with Margaret River Roasters to provide some of the best coffee in the east end of Perth to hotel guests and the general public. The coffee window opens onto the bustling Murray Street and already has a host of regulars who won't get their coffee from anywhere else on their morning commute. The Express Breakfast, served daily, provides guests with a tasty selection of snacks and varied options for a breakfast to get their day off to the best start.
With such a welcoming environment and dynamic, lively spaces it's no wonder that Pensione Hotel has recently been voted Number One in the 2019 Kayak Travel Awards for Best Budget Hotel in Australia for exceptional service and great value!