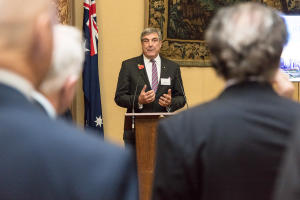 The Perth Convention Bureau (PCB) launched their new Ambassador Program on 5 November with a launch event hosted by Commodore Mike Deeks CSC RAN (Rtd), Western Australia Agent General at Australia House, London.
PCB Chairman Kevin Skipworth CVO, CEO Gareth Martin, and Business Development Manager Malcolm Farrell-Mitchell represented the Bureau at the event, which was attended by 40 potential ambassadors, all of whom are expatriates, alumni, and businesspeople with connections to Western Australia now living in London. A further 20 meetings have been scheduled with potential ambassadors who were unable to attend the event.
These potential ambassadors are all experts in their respective fields and represent an opportunity for PCB to access their substantial networks to attract international conferences to Western Australia. The Ambassador Program will see these ambassadors act as spokespeople for WA, representing the State at international conferences as well as assisting in the curation of international conference bids.
PCB Chairman Kevin Skipworth CVO commented, "the calibre of attendees to the Ambassador Program launch in London was high and it was rewarding to connect with respected individuals who all have a passion to support the growth of their areas of expertise in our State."
PCB seek to secure a group of 40 ambassadors by the end of this current financial year and will be hosting another launch event in Singapore in 2020.
Special thanks go to Commodore Mike Deeks, Agent General; Sally Janssen, PA to the Agent General; Dick Porter, Chair of the Australia-UK Chamber of Commerce; and David Mackinlay, Chair of the UWA Business School's Ambassadorial Council in London for their assistance with this launch.
If you have any question about the Ambassador Program, please contact Malcolm Farrell-Mitchell on mfarrell-mitchell@pcb.com.au.