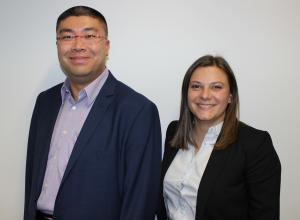 PCB is pleased to announce the addition of two new staff members to the business development team.
Originally hailing from Singapore, Alex Ng joins the Bureau as a Senior Business Development Manager and a member of the Corporate & Incentive team with a particular focus on South East Asia. Alex's background includes over a decade of experience with Singapore Airlines, the last being as Manager Western Australia, and a stint thereafter as an Inbound Tour Operator in Perth. He is passionate about promoting Western Australia as a premium destination for corporate meeting and incentive business and looks forward to welcoming visitors from all over Asia to enjoy WA's gourmet food & wine, friendly people and wildlife, beautiful beaches and stunning sunsets while hosting their business events.
Exchanging the snowy mountains for the sunny coast of Western Australia, Domenica Pulver has recently made the move from Switzerland to Perth to join the Associations team as a Business Development Manager. With a bachelor's degree in Tourism Management and seven years' experience in the business events industry working for Swiss organisations MCH Group and KKL Luzern, Domenica is passionate about promoting her new home as a business events destination.
If you have any C&I enquiries, you can contact Alex on alexn@pcb.com.au or +61 (08) 9218 2902.
To get in touch with Domenica, you can email her on dpulver@pcb.com.au or call her on +61 (08) 9218 2921.