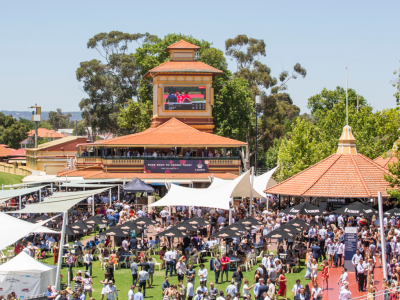 Ascot Racecourse will blossom into spring for the 2020 Ascot Racing Carnival, commencing with Crown Perth Opening Day on Saturday 10 October and runs right through to TABtouch Perth Cup Day on Saturday 2 January 2021.
With 10 key racedays featuring world-class horse racing, each carnival day has a specific theme allowing patrons to select their ultimate raceday experience. Whether it's celebrating with the ladies on Champion Fillies Day, experiencing the fashion trackside on Melbourne Cup Day, or watching the finest thoroughbreds for serious horseplay at the TABtouch Masters.
The TABtouch Masters is like no other, with three spectacular racedays over three weeks comprising of Railway Stakes, Winterbottom Stakes and Kingston Town Classic. 2020 marks the fifth edition of the world's only single-track racing festival featuring a Group One race worth at least $1,000,000 on three consecutive Saturday's.
Perth Racing Managing Director, Professor John Yovich AM said, "We have a fabulous Ascot Racing Carnival planned which will be packed with entertainment, great hospitality and quality thoroughbred racing".
"Ascot is looking wonderful and our team is in full swing for this year's Ascot Racing Carnival. Perth Racing has refurbished a number of exciting venues including a brand new bar and function space in the ground floor of the historic Grandstand, that will make this year's Carnival experience the best one yet. Expect plenty of colour and lots of horseplay with a few surprising reveals along the way," he added.
To launch the season, fashionistas are in for a treat with the Privé Fashion Platform event, which will see some of Perth's elite and trendiest designer fashions showcased on the runway on Friday 2 October. Featuring a stellar selection of Western Australia's top designers along with the latest racewear looks from shopping retailers and a new student designer of the year showcase. For those who enjoy the fun and frivolity of racing, this fashion focus event is just the ticket to mingle and network over whilst enjoying premium beverages and canapes at the beautiful and historic Ascot Racecourse.
Guests can enjoy a variety of new attractions and areas offering quality hospitality and raceday experiences, including the newly opened bar and function space - The Trophy Room. Visitors can indulge in something sweet at the new Ice Creamery or a refreshing tipple at the EqWine Bar on Level One of the Grandstand. Punters who love the outdoor trackside experience can head to the Byron Bay Beer Garden at Ascot and don't forget the exclusive dining options in The Flying Colours Restaurant, The Terrace Restaurant or a Picnic at Ascot package.
Whether it's a day out with the girls, a punt with the lads or a family day out, with kids under 18 FREE - there truly is something for everyone at Ascot Racing Carnival. Get ready for horseplay from 10 October.
Article submitted by Perth Racing