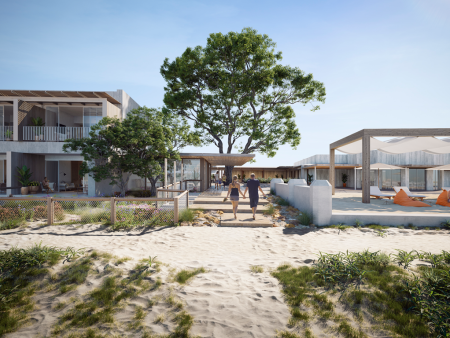 Rottnest Island is undertaking many projects which will provide vital infrastructure upgrades to enhance the visitor experience, embrace cultural heritage and ensure the long-term sustainability of the Island.  In addition to these national tourism icon projects, Rottnest Island will soon welcome the latest luxury accommodation offering - Samphire Rottnest, set to open in October 2020.
The 80-room Samphire Rottnest on Thomson Bay is named after the samphire succulent plant native to the island.
Designed by Perth architects Christou Design Group, all rooms come with a private balcony overlooking an array of vantage points around the property and Thomson Bay.
The hotel includes an indoor/outdoor dining hub, beach club, and lounge and poolside offerings and will have the capacity for a range of events including meetings and conferences.
Samphire Rottnest has been constructed next to the original Hotel Rottnest, which will retain its food and beverage offerings and receive a cosmetic refresh including increased decking, new furniture, and umbrellas to complement the new development.
For more information visit https://rottnestisland.com/accommodation/accommodation-types/Samphire-rottnest
Article submitted by Rottnest Island Authority and Samphire Rottnest