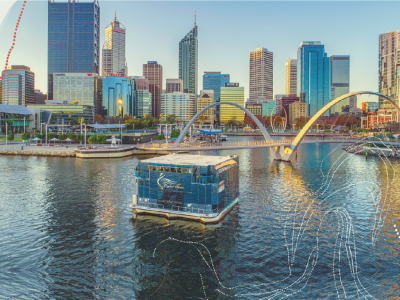 Crystal Swan Cruises, in partnership with traditional owner and Nyungar Elder, Kerry Ann Winmar, is set to launch a new tourism initiative celebrating the cultural history of the Swan River.
'Derbarl Yerrigan Bilya – Cultural Stories of the Swan River' will be launched with a morning tea event on August 29th, departing Jetty Five at Elizabeth Quay at 10am.
Guests will be treated to Kerry Ann's personal anecdotes and tales handed down to her by her ancestors, as well as historical facts on the settlement of the Swan River by white colonists.
Crystal Swan Operations Manager Liam Wright said that this is a first for Perth, and an important cultural celebration of the area's heritage.
"The Swan River, or Derbarl Yerrigan Bilya, as it's known in Nyungar language, has been the main conduit between the Inland Plains and the Indian Ocean for centuries, and holds a special significance for many cultures. None more so than the region's traditional owners, the Whadjuck Nyungar people, who have occupied this land for over 40,000 years," said Mr Wright.
"We are excited to be able to join with Kerry Ann to bring these valuable stories to the people of Perth in a fully immersive cultural experience."
The cruise will take place over two hours, and morning tea, made with indigenous foods such as Chocolate Wattleseed Brownies, Quandong Shortbread and Fingerlime and Native Rivermint Chicken breast, Cucumber, Lettuce Ribbon Sandwiches will be served along with native teas, and coffee.
The Crystal Swan will cruise from Elizabeth Quay, around the river to South Perth foreshore, the King's Park foreshore, Herrisson Island and then back to the Quay at noon.
The morning tea is part of a suite of events which will be offered to corporates, industry groups and event planners as functions for up to 100 guests. The Crystal Swan has teamed up with some of Perth's finest caterers who use elements of 'bush tucker' and native produce to craft menus to suit the occasion. Menus have been designed for morning and afternoon teas, light lunches and high tea, right through to five, seven and nine course degustation menus featuring the very best Western Australian produce, hosted by WA Food Ambassador Don Hancey.
For more information on the suite of events offered, please contact the Crystal Swan on 0468746024 or email through to info@crystalswan.com.au
Article submitted by Crystal Swan