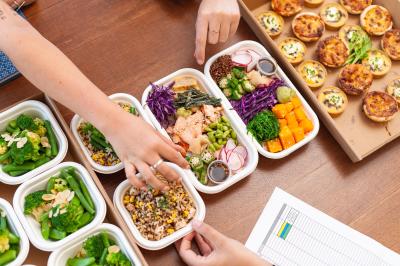 Since 2017, Ultimo's On-Demand catering has focused on providing office catering for any occasion with only two hours' notice needed. From working lunches to gourmet finger food catering, Ultimo offer a variety of fresh and delicious options to suit any taste, with a focus on updating their menu twice a year to ensure that they keep up with ever-changing food trends.
Launched on the 17 February, Ultimo's new On Demand Menu has a variety of new options for everyone to enjoy. From vegan & gluten free raw treats, French donuts (Nutella and caramel), sushi, sandwiches, winter soups and a range of new hot and cold items, the options are endless! Not only that, On Demand Catering is designed for convenience. It can be ordered online using Ultimo's user friendly ordering system. Orders placed before 1pm any day of the week can be delivered within two hours, perfect for any last-minute meetings or workshops.
Ultimo Catering + Events seek to provide new solutions that answer the real wants and needs of their customers, diversifying their catering menus to create a more accessible and approachable service. This includes the development of clear online ordering technology, high-quality images of what the product actually looks like when it comes, fast turn-around time, sustainable practices and fresh, locally sourced cuisine that is mindful of varying dietary requirements.