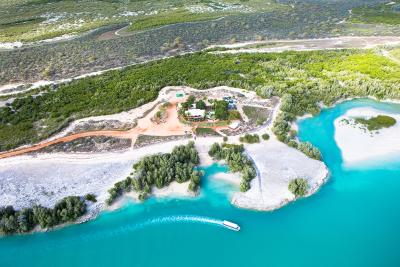 Iconic pearl producer Willie Creek Pearls has been selected as a finalist in six award categories at both the Broome Business Excellence Awards and the Western Australian Regional Achievement and Community Awards.
These regional awards recognise outstanding business achievements and inspire growth in Western Australia's regional areas, which Willie Creek Pearls exemplifies as a Western Australian family owned and operated business that last year celebrated 30 years of service excellence. 
Willie Creek Pearls has qualified as a finalist in the following categories:
Broome Business Excellence Awards
Australia's North West Tourism Award for Tourism Business
Business with 21+ Employees Award
Customer Service Excellence Award
Business Person of the Year – Darren Banfield, Executive Director
Western Australia Regional Achievement and Community Awards
Economic Development Award
Development of Northern Regional WA Award
The business (including the iconic Willie Creek Pearl Farm) is run sustainably and is accredited with eco certification.
Operating in both Perth and Broome across six industries (tourism, jewellery, hospitality, commercial pearling, retail and manufacture) Willie Creek employs up to 84 team members in its peak season.  With each product and service created purposefully to educate, engage and entertain guests as they enjoy the complete pearl experience, Willie Creek Pearls is an establishment within the tourism industry and the wider community in Broome, and has demonstrated its commitment to enhancing the social, economic and commercial viability of the North West.
The Broome Business Excellence Awards will take place on 23 October, while the Western Australia Regional Achievement and Community Awards will be held on 3 December.