Edith Cowan University $5,000 Aspire Award
Business Events Perth's Aspire Awards support Western Australian researchers, academics and professionals to attend an international business event or conference of their choice. For more than two decades, the Aspire Awards have helped Western Australians share knowledge and connect with industry leaders all over the world, highlighting Western Australian expertise at international conferences.
What is the Edith Cowan University Aspire Award?
Funded by Business Events Perth, the Edith Cowan University Aspire Award is a $5,000 scholarship presented to an Edith Cowan staff member to assist in their professional development by attending an international conference in their chosen field of endeavour.
What can the $5,000 scholarship be used for?
The scholarship can be used within three years of receiving the Edith Cowan University Aspire Award and covers air travel, accommodation and registration at a relevant international conference to a maximum of $5,000 (exclusive of applicable GST). The funds are provided upon receiving paid receipts/invoices for the above mentioned expenses.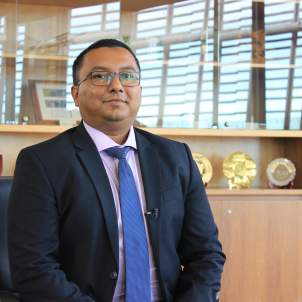 If we do not go to face to face conferences, then we are only given a 15-minute slot for a talk. I do not have the chance to chat with my colleagues, or someone who is the best in their particular research area. So that's why it is extremely important to go and meet the best and brightest...
— DR MOHIUDDIN AHMED, EDITH COWAN UNIVERSITY ASPIRE AWARD WINNER 2020