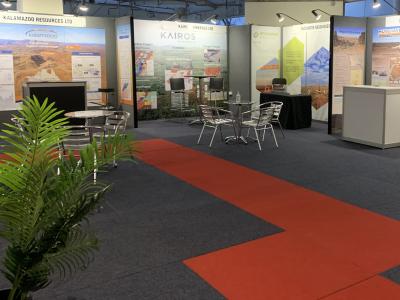 Above the Line Event Management (ATL Events) was tasked with finding a suitable space to host a combined national conference and exhibition and succeeded in safely delivering the RIU Resurgence Conference 2020, attracting 380 delegates and 80 exhibitors. 
COVID-19 presented a number of challenges for the events industry over the past 12 months, none more challenging than the phasing of restrictions. A major hurdle seen time and time again is the square meterage restrictions in relation to venue capacities. This has affected large scale events in particular, conferences and exhibitions. 
ATL Events was given a brief to create an outdoor exhibition space that was COVID safe and compliant with all State Government restrictions for the RIU Resurgence Conference in September 2020, allowing for exhibitors and delegates to safely meet within Western Australia's Phase 4 restrictions. 
The experienced event management company was able to secure a partially outdoor blank canvas space within the Hyatt Plaza at the Hyatt Regency Perth, which was transformed to look as though it was the inside of a function room.
The footprint of the space meant that ATL Events had the ability to quickly adjust the size of the event in the event of a change in event regulations, while also allowing each exhibitor the ability to exhibit within the restraints of physical distancing. 
To ensure that exhibitors felt comfortable proceeding with having a booth at the event in such a bare event space, 3D render diagrams and floorplans were drawn that clearly illustrated what the space would look like once transformed, giving exhibitors the confidence to proceed.
The conference was also live streamed to cater for local, national, and international delegates and investors who could not attend due to travel restrictions.
Ultimately, the transformation of the space and online component of the event was crucial in ensuring the RIU Resurgence Conference 2020 went ahead with confidence.