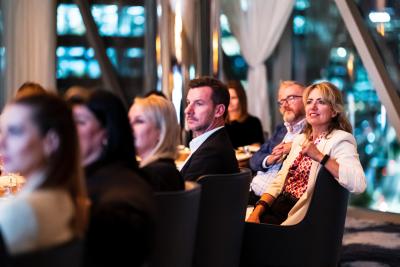 In May, Business Events Perth hosted more than 30 business event planners at a series of destination showcase events in Melbourne, Sydney and Brisbane, showcasing the best of Western Australia.
Supported by Business Events Australia's Boost Program, the Sydney and Melbourne showcases featured guest speaker Simon Griffiths, co-founder of Who Gives A Crap, while delegates at the Brisbane event were inspired with a rousing speech from Michelle Cowan, Head of Operations and Player Wellbeing for the West Coast Eagles Women's Football Club, who spoke about breaking into a male dominated field and becoming a leader and role model for women.
The events provided an opportunity for Business Events Perth to update guests on WA's amazing offering for business events, including a sneak peak of some of our soon-to-be-launched unique virtual reality experiences, and a pre-launch preview of BE Perth's new 3D venue tours.
Business Events Perth is in the business of bringing people together to connect and collaborate, so it is an absolute pleasure to host our valued clients at these events, and we look forward to seeing them in Western Australia soon!