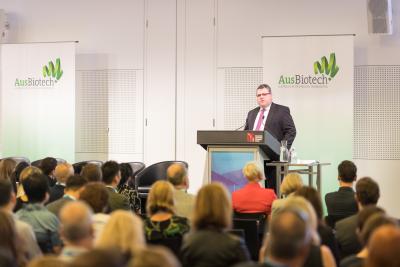 Business Events Perth has secured Australia's largest life sciences conference, AusBiotech, to come to Western Australia in 2022.
Business Events Perth chief executive Gareth Martin said AusBiotech 2022 is expected to attract over 1000 delegates to Perth, as well as bring new commercial opportunities to Western Australia's thriving biotechnology industry. 
"Western Australia's life science industry is one of the fastest growing in Australia, contributing significantly to the national economy each year," Mr Martin said.
"The AusBiotech conference and Australia's leading life sciences investment event will be held in our thriving state is an important opportunity to showcase Western Australia's significant expertise in the biotech and life sciences sector, not only to the rest of Australia, but also to the world."
AusBiotech will be held in Perth in October 2022 and is expected to attract researchers, developers, start-ups, investors, innovators, universities, and corporates from all over Australia and around the world.
Running in conjunction with the conference is the leading Australia Biotech Invest & Partnering event, which will provide opportunities for local companies and professional service providers to connect with key stakeholders and investors.
There are currently around 40 biotechnology and pharmaceutical companies and more than 50 medtech and digital health companies based in Western Australia, along with 22 research institutions and almost 65 services and support organisations.
"Business events, like conferences, act as a front door for trade and investment, and AusBiotech creates a platform for current and future biotech leaders to pitch their new products to potential investors, creating new opportunities and collaborations, supporting local jobs."
Lorraine Chiroiu, CEO, AusBiotech said, "AusBiotech is thrilled to be partnering with Business Events Perth and the WA Government to bring two of Australia's premier life science events to Perth in 2022, for the first time in more than 15 years. The mature sector continues to flourish and deliver social and economic benefits to the country, and these platforms offer critical opportunities for industry to engage with each other and with potential investors and partners.
"Business Events Perth is focusing on securing tradeshows and events aligned to defined State strategic priorities, demonstrating sector capabilities that drive innovation, foster trade, productivity, global competitiveness, and job diversification in Western Australia.
"The annual AusBiotech conference is an exciting opportunity for our medical and life sciences community to showcase its competitive advantages, build networks and secure new partnerships," Science Minister Roger Cook said.
"This conference will bring together national and international biotech leaders and stakeholders, attracting speakers from around the globe and showcasing more than 100 companies."
Tourism Minister David Templeman said he couldn't wait to welcome international delegations back to Perth and show what the city, and our local life sciences sectors have to offer to the world.
"With a rapidly growing life sciences industry, there has never been a better time for WA to host AusBiotech conference in 2022," Minister Templeman said.
Business Events Perth partnered with the Western Australian Department of Jobs, Tourism, Science and Innovation and the City of Perth to secure the event.