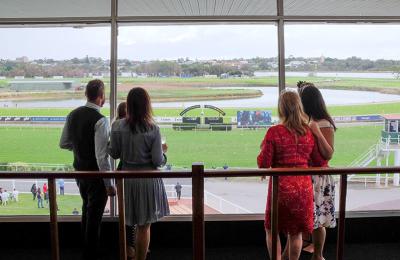 Put the 'fun' back into fundraising at your next association event with the Perth Racing Kick Back Program.
Never has it been easier for race day guests to back a winner!
The online ticket rebate scheme means you can raise funds for your not-for-profit organisation by inviting your delegates to spend a day at the races.
For every general admission or membership ticket your organisation sells, Perth Racing will kick back 30 per cent to you. Perth Racing supplies everything you need to promote your ticket sales webpage with a unique promotional code, and commissions paid monthly as they are raised, so you can simply kick back and enjoy the ride!
Perth Racing Managing Director, Professor John Yovich AM, said that PR Kick Back is a stand out opportunity for community organisations, sporting groups and not-for-profits to fundraise with ease.
"PR Kick Back lets you put away the tongs, running all those sausage sizzles, flipping burgers and frying sausages and onions to raise needed funds for your organisation," Professor Yovich said.
"It's a great opportunity to raise big money and spend a fun day out with your colleagues."
Any form of incorporated group or association can join Kick Back as a partner and begin earning commissions. It's an innovative new way for community partners to have a fun day out or simply fundraise passively all year round.
Participants include not-for-profit associations such as The Royal Lifesaving Society of WA and Energy West Social Club, to name a few.
Find out more about the Perth Racing Kick Back Program here.