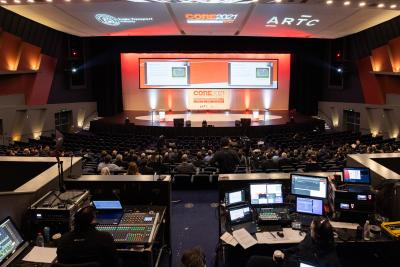 With only weeks to go until the CORE2021 Conference on Railway Excellence was set to take place, the team at Encanta Event Management had to transform the in-person event into a hybrid conference, with some creative techniques to boost virtual attendance.
Held at the Perth Convention & Exhibition Centre on 21 - 23 June 2021, CORE2021 was expecting to see nearly 600 delegates walk through the doors of the Centre to attend in-person.
"Just a few weeks before CORE, the vast majority of 600 delegates had accepted to attend in person," Director of Events, West Coast Jade Riolo said.
"First, Victoria announced a snap lockdown requiring about 60 delegates to cancel their travel plans and transfer to virtual attendance. Then, just days ahead of the conference, NSW had an outbreak and called a lockdown, soon followed by parts of Queensland."
As a result, the Encanta team had to convert over 120 delegates to attend the event virtually within a matter of days.
With a number of sponsored networking breakfasts, lunches and a Gala Awards Dinner on the final night, it was imperative that the virtual delegates felt part of the proceedings and value was offered to the sponsors and exhibitors of CORE2021.
"When it came to delivering what's traditionally been a two- or three-day conference virtually or as a hybrid event where some people attend in person and others via a device, we had to completely rethink what that meant for delegates, presenters, sponsors and exhibitors," Director of Events, West Coast Jade Riolo said.
The Encanta team have become nimble at developing solutions for virtual delegates and got busy on the Uber for Business platform issuing $50 Uber Eats Vouchers to engage virtual delegates in the live streaming of the Gala Awards Dinner, whilst enjoying a meal in the comfort of their home.
A highly popular option, 79 people took up the offer. "They weren't missing out and they really appreciated it," Ms Riolo said. What's more, it was an all-round winner.
Read more about the initiative on the Uber blog.