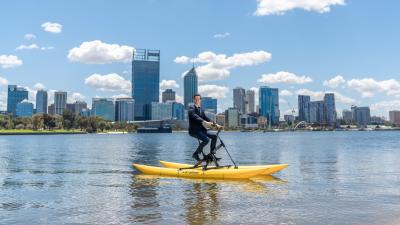 Western Australia's peak body for business events, Business Events Perth, is calling on event planners around Australia to experience the "unexpected" and start planning their next business event in the nation's sunniest capital city. 
Business Events Perth's latest marketing campaign launched today features five engaging videos and a range of digital assets, highlighting Perth's new hotels, unique meeting venues and unparalleled experiences, in a bid to keep Perth front of mind for future corporate meetings, conferences and exhibitions.
"This campaign will keep Western Australia front of mind for business event planners on Australia's east coast, as confidence continues to grow in the national business events industry," Business Events Perth chief executive Gareth Martin said.
"Our "discover the unexpected" campaign shows that business events don't all have to be the same and when business visitors come to Western Australia, they have an unparalleled and unique experience. Which is why Business Events Perth is reminding national event organisers how a business event in Western Australia is so spectacular," Mr Martin said.
"Here you can step out of your business event straight into an unexpected adventure, whether it is premium food and wine, or an aquatic adventure, in a State that offers an abundance of outdoor space."
In July, Western Australia hosted the country's first large scale business event since COVID restrictions were implemented. Over recent months, in line with local COVID restrictions, Western Australian business event operators have continued to bring people together to meet, connect and collaborate in a safe way at business events.
 The new marketing campaign follows the release of Business Events Perth's widely acclaimed interactive business event planner, which takes the user on a guided tour of the best of the state's meeting spaces, accommodation, gala function spaces and experiences.
In recent years, more than 5000 accommodation rooms have added to Perth's hotel inventory, complementing a 40 per cent increase in meeting space, making the city a contemporary and cost-effective destination for business events.
"I implore national conference and exhibition organisers who want to create a safe and unique experience for their delegates in a city, filled with amazing experiences, that they must consider Western Australia for their next business event," Mr Martin said.
Business Events Perth offers generous funding for business event as well as in-kind support.
Organisers considering Western Australia for their next business event are encouraged to get in touch with Business Events Perth at info@beperth.com or on (08) 9218 2900.
ENDS
Media contact:
Hannah Beattie
Media and Communications Coordinator
Business Events Perth
9218 2919 / 0428 988 802