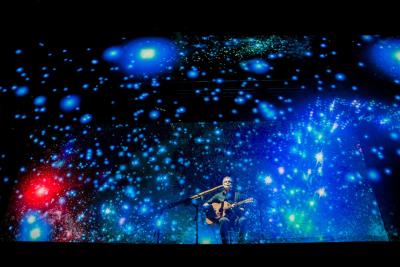 Lux Events are thrilled to bring new holographic illusion technology to the Perth live-event, film, and television industries. 
This stunning product enables presenters, performers and products to be immersed in a three-dimensional sensory environment that will leave the audience's eyes defying their minds and asking, 'how did they do that?'. 
Performers appear and disappear, graphics float in the air and fly off stage creating 3D effects, without the need for special glasses.
"The flexibility for illusion creation is like no technology we have used before in the live-event space," said Marc Hansen, Head of Production at Lux Events. 
Lux Events debuted the technology in the WA market at the Westrac Gala Dinner on the closing night of the Diggers & Dealers Mining Forum, which took place in Kalgoorlie from 12-14 October.
The new technology was integrated into all areas of the night including a custom product showcase for Westrac, feature performance by singer James Wilson and awards presentation motion graphics. 
The Lux technical team combined powerful projection, high resolution LED screens and time-coded lighting to create a visual experience that defied explanation.
Lux's in-house multimedia designers supported the creation of all bespoke content for this technology, the creative uses for which are limitless. 
If you're holding an event an wish to discuss how this technology could be used, Lux events can be contacted for a product demonstration at hello@luxevents.com.au or on 9202 1800.