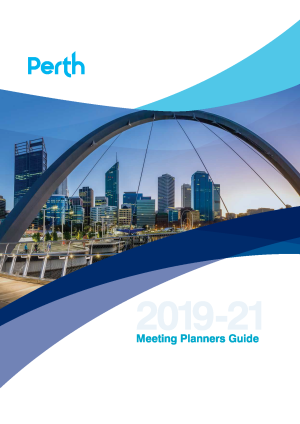 Perth Convention Bureau (PCB) is pleased to announce the release of its latest Meeting Planners Guide 2019-2021. The Meeting Planners Guide (MPG) is a comprehensive directory of the venues, products and services available to meeting organisers who are considering Perth, Western Australia for business events.
The guide, which is updated every two years, features an extensive inventory of venues and accommodation properties, including all the major conference centres and hotels in both Perth and regional Western Australia.
Also featured are suppliers of professional services and products, services offered to planners by PCB, in-depth information about the areas of Perth and regions of Western Australia and an update on new developments in Perth.
Focussing on providing essential decision-making information for conference and incentive organisers, the MPG connects meeting planners with all the best facilities, products and services available to stage spectacular events in Perth and Western Australia.
To access the most up-to-date version of the Meeting Planners Guide click here or email PCB at info@pcb.com.au.