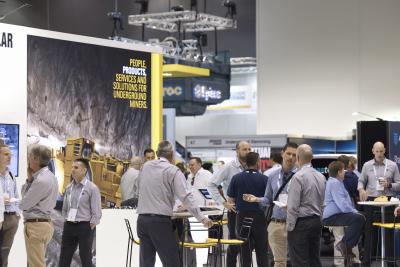 Perth Convention and Exhibition Centre (PCEC) championed the revival of a pre-COVID events industry in Western Australia last month by hosting over 80 events in March 2021.
Exactly 12 months ago PCEC was forced to close as COVID-19 reached Australia.
After one year of developing and implementing COVID-safe venue procedures aligned to current health department directives, the business was thrilled to host over 45,000 guests for face-to-face events in March.
Some notable events included:
The UN Women International Women's Day Breakfast, hosted in the Bellevue Ballroom and featuring Australian of the Year winner Grace Tame.
The Chamber of Minerals and Energy WA's Women in Resources Award Presentation Dinner, which drew over 900 guests to celebrate the growth of female participation in the sector.
Australasian Oil & Gas (AOG) Energy, hosted at PCEC once again – this time celebrating 40 years!
The Underground Operators Conference, delivered in an innovative hybrid format that allowed delegates from around the world to connect.
PCEC also hosted two events with Exhibitions and Events Australia (EEA), Australia's largest organiser of consumer exhibitions - the Perth Home Show and the EveryWoman Expo. The Perth Home Show attracted over 10,000 people which was an increase of 10.5 per cent on 2019 attendance. The EveryWoman Expo also drew 13,351 people with exhibitors experiencing bumper trade over the three days. This led to a record number of exhibitors committing to a trade presence at next year's event.
The Riverside Theatre was up and running with two exciting shows - a visit from comedian Russell Howard and WASO's Harry Potter & the Order of the Phoenix performance.
PCEC is thrilled to be back in action and pleased to be able to support the local events and tourism industry after a challenging 12 months.
For more information about upcoming events or what PCEC is doing to keep guests COVID-safe at this time, please head to pcec.com.au or contact pcec@roobix.com.au.