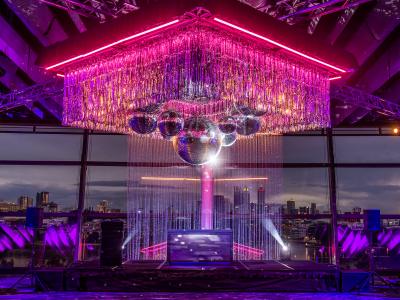 Phenomenon Creative Events love when clients have an idea or a style they can explore and develop into a fully realised concept. After a year of working from home, a corporate client wanted to bring their 500+ team together to create an unforgettable night of disco to celebrate the teams' achievements. The challenge of any large organisation is finding a middle ground with a theme that is inclusive and fun for a wide demographic of guests. In this case inspiration was taken from the mirror ball to create a high end elegant gala dinner using a chrome-based colour palette.
The event was held in the beautiful River View Room at Optus Stadium with its stunning cityscape views. Guests entered via an 8-meter, floor to ceiling, beaded tunnel which Perth Audio Visual lit using lighting bars to control the colour of the beads and really gave guests the wow factor the moment they entered the room.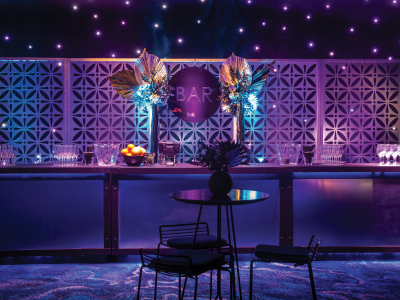 Two photo areas were created, one using chrome screens with beautiful black and silver preserved florals and the 'Disco Dreams' photo area using gold framework featuring 29 mirror balls, suspended at various heights. The photo booth machines were supplied and staffed by VIP Lane, ensuring a great experience for guests with printed mementos of their evening.
The hero piece of the room was the disco ceiling installation, which was a team effort between Phenomenon, designing the install, and Perth Audio Visual. The install had two phases; one upon arrival which illuminated the silver foil and mirror balls. As DJ Bronia played the opening bars of the Earth, Wind & Fire classic 'September' the central mirror ball was illuminated in time with the beat dropping which cast reflections across the entire ballroom, transporting guests to the biggest disco in town!
Phenomenon installed a large chrome bar along the far side of the room, which was created with chrome screens, star cloths, custom signage and large chrome bar and custom florals in chrome and black tones. Aside from creating a bar with the wow factor Phenomenon liaised with the banquet team to ensure it was practical to service.
The success of an event of this scale requires effective partnership between all suppliers. Phenomenon worked closely with the Meeting and Special Events team at Optus Stadium and Perth Audio Visual to confirm the logistics and safety requirements which made the setup extremely efficient. A massive disco infused team effort across the board resulting in a successful night for the client.