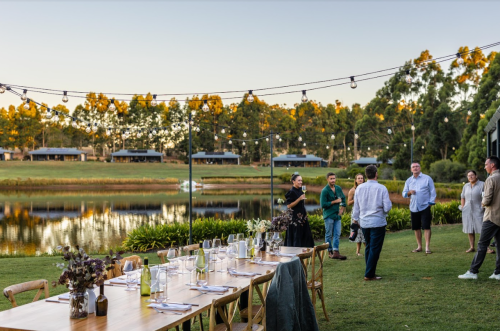 Travel Better DMC and Earn Your Vino invites you to "Meet the Maker, Be the Maker – A day of wine blending with LS Merchants"
'Be the Maker' with the LS Merchants team.
Get your private masterclass on red wine blending and create your own blend in a full day intimate winery experience under the guidance of award-winning winemaker and respected wine educator Dylan Arvidson and, embark on a hands-on sensory journey.
'Meet the Maker'.
Enjoy a welcome refreshment on arrival and meet Margaret River's "young gun" winemaker Dylan Arvidson, owner of LS Merchants. It's time to get ready for your team challenge.
'Be the Maker'.
Get your masterclass on red wine blending and create your own blend in this full day of hands-on activity. Under the guidance of the winemaking team, learn the intricate art of blending wine and understand why winemakers use different varieties, vintages, and fruit parcels to achieve their vision.
Relax and enjoy a private tasting of selected wines from different regions of Western Australia. Dylan will present some of LS Merchants most sought-after wines, and some of his personal favourites to highlight the stylistic consistency of the portfolio and the variation that terroir and vintage can provide, accompanied by pre-lunch snacks.
Feast on a long-table, immersive 'farm to harvest' lunch or dinner and be treated to a decadent meal focused on provenance and nestled in a secret location amongst the barrels of the winery.
Your private chef for the day will provide a culinary journey, paying homage to the seasonal and regional cuisine we all crave for. (no smears, no foams, no blankets, no smoke & mirrors).
LS Merchants will introduce four more wines for this feast: iconic varietals and wines, and a special surprise wine that is guaranteed to be the first taste for all.
The day-long journey will conclude with the presentation of the winning blend and a reward for everyone. Perhaps your wine will be the best blend of the day?
Throughout the day you'll learn about sustainable farming practices, understand the land we walk on, and discover what low-intervention winemaking is all about, and finish with an immersive wine tasting.
For a limited time book before October 14th and receive 10% off – T&C applies
Find out more and connect now - www.travelbetterdmc.com
Image: Credit to Earn Your Vino, photo by Cassandra Charlick