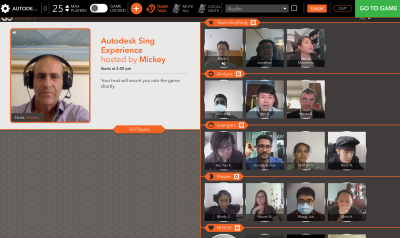 The Go Game is the latest product offering from Perth based team building company Human Rhythms Pty Ltd, giving businesses the opportunity to bring teams together online to drive culture and connection through custom games, events, and experiences.
The Go Game's digital platform can facilitate teams of up to 28 people per room, with multiple rooms able to be operated simultaneously, to engage in a 45-60 minute round of activities intended to get teams thinking and working as a cohesive unit in a fun and interactive way.
The activities include games such as Wheel of Fortune, Pictionary, know your colleagues, and trivia, with a bit of lip sync or air guitar to close things off!
Following a challenging few months due to coronavirus restrictions, the team at Human Rhythms are now finding themselves busy as ever due to an influx of bookings from multinational corporates such as Google Singapore, Autodesk Asia Pacific, Shell Singapore, Essec Business School Singapore, Goodman Fielder Sydney and Beigene Sydney, who have all been hosted on The Go Game by a Perth based facilitator from Human Rhythms.
Ensuring your team are working together cohesively has never been more important than right now, and The Go Game is the best way to bring your team together for some all-important bonding no matter where they are in the world.