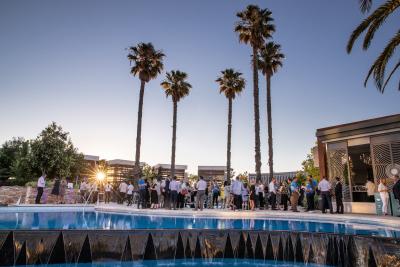 Premier of Western Australia the Hon. Mark McGowan MLA has today announced a new tourism recovery package that will see the State's official convention bureau, Business Events Perth, receive $15 million in funding to attract lucrative business events to WA, which will help to support the state's business event, hotel and hospitality industry.
Speaking at the WA State of the State event today at Crown Perth, Premier McGowan announced the $185 million Reconnect WA funding package, a multifaceted package that targets tourists, skilled workers, international students and events, and aligns with WA's Safe Transition Plan.
"Our Reconnect WA package aims to leverage what we have achieved in managing the pandemic by offering a safe and vibrant place to visit, work or invest in," Premier McGowan said.
As well as the funding for Business Events Perth, the package includes a $65 million aviation fund directed towards re-establishing international and interstate flight routes that were disrupted by the pandemic, as well as targeting new routes including Germany, India, China and Vietnam.
Business Events Perth Chair Bradley Woods said the funding would act as a direct and significant boost to WA's tourism industry and praised the State Government for recognising the importance of the business events sector.
"In 2019, Business Events Perth generated $153 million in confirmed business events with $5.3 million in funding, which is an ROI of 1:29, so we expect that this new funding from the WA State Government will generate significant economic returns for Western Australia and also support Perth's CBD hotels which have borne the brunt of the pandemic," Mr Woods said.
"With business event delegates spending up to five times more than their leisure counterparts and almost two thirds of delegates choosing to attend a conference in order to extend their trip to take a holiday, the business events sector has a vital role to play in the ongoing recovery of Western Australia's overall tourism industry."
"The recovery of WA's visitor economy will have a flow on effect to a broader range of businesses; while visiting WA, delegates will stay at local hotels, dine at local restaurants, book local tours and shop at local retail outlets."
Business Events Perth Chief Executive Officer Gareth Martin said the funding boost would underpin a strong recovery for the business events sector in Western Australia that would have a flow on effect for a broad range of businesses and the State's visitor economy as a whole.
"Through the funding of the State Government over the last 15 months, BE Perth has directly supported over 350 local events while securing a pipeline of national and international business events for future years," Mr Martin said.
 "In the face of an increasingly competitive national and international market, this much needed boost in funding will drive a significant return on investment for WA and support local jobs in one of the most affected sectors."
"Thanks to the new Reconnect WA funding from the State Government, Western Australia will be able to attract more conferences and more delegates, supporting the recovery of our visitor economy and helping our State become an even more internationally competitive and globally recognisable destination."
Full details of the package are to come shortly; to find out more, see Premier Mark McGowan's media release here.