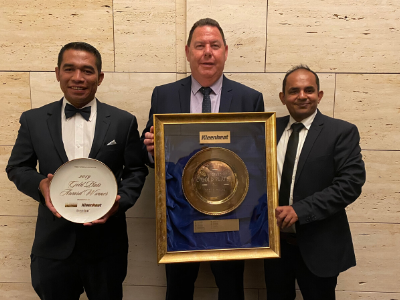 Renowned by local and international diners for serving some of the finest steaks in Perth, Firewater Grille, located in the Duxton Hotel Perth, recently entered into its first Gold Plate Awards since opening its doors in 2013.
Prior to becoming a finalist in the Steak House division, the Firewater Grille was extensively judged by a professional panel on food quality, presentation, customer service and overall dining experience.
At the Kleenheat Gold Plate Awards gala, Firewater Grille was announced as the winner of the 2019 Steak House Award and has since proudly mounted the framed Gold Plate on the wall in the Firewater Grille restaurant as a reminder to staff and diners of the great achievement.