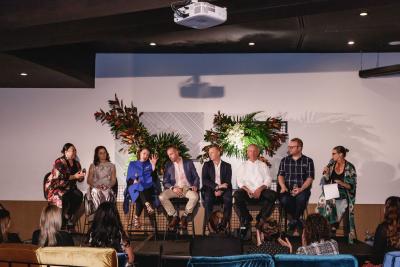 Fraser's Events & Catering launched their new Winter function menus with an exclusive invitation only event with the theme 'Unleash Your Senses and Engage Your Mind'.
The room was brought to life with carefully curated food stations where guests were treated to a sensory experience and were able to smell and touch the produce before tasting the menu items. The goal, to create a visual showcase demonstrating how food can be an integrated and integral part of event styling. A signature cocktail kept everyone hydrated and a new trend in function beverages was unveiled; Seedlip, a non-alcoholic spirit that was used to create a number of alcohol-free cocktails.
Guests were then treated to an informative panel highlighting what is hot this event season in styling, florals, hire, stationery and food and beverage. The panel, which consisted of Hire Society Owner/Director Deborah Pitter, Mardie & Co Creative Director Kylie Logan, Matthew Landers Florist Owner Matthew Landers, Lala Designs Owner/Creative Director Lala, PAV General Manager Lee Williams, and Fraser's Events & Catering Executive Chef Chris Taylor and Restaurant Manager/Sommelier William Roser continued to keep everyone well fed with their knowledge, experiences and advice before answering a number of questions from eager attendees. 
The menu launch was another unforgettable Fraser's Events & Catering experience highlighting upcoming industry trends and providing a creative platform to launch their new menu items and concepts.
To view the new menus online visit frasersevents.com.au.