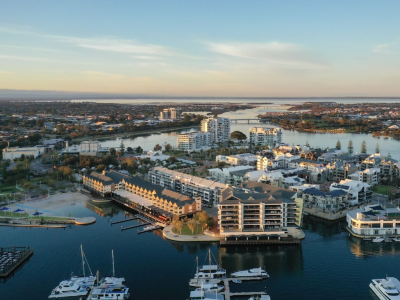 From difficult times, great opportunities can evolve. Mandurah's resilient tourism and hospitality industries have weathered months of industry closure and are welcoming intrastate visitors back with open arms. For many, there is a touch of nostalgia associated with these visits. They holidayed in Mandurah as a child and are now creating great memories with their own families.
From a MICE industry point of view, Mandurah is the ideal location for your next incentive, having come of age in recent years to provide a wealth of high-quality and diverse accommodation, tour, leisure and hospitality options.
Mandurah's waterways are perhaps its most iconic and well-loved attraction and Mandurah Cruises has recently launched a new product to make the best of all the estuary and canals have to offer.
The Dolphin and Scenic Marine Cruise allows visitors to get up close to the city's famous blue manna crabs and western rock lobster, not to mention WA's largest population (120) of residential Indo-Pacific bottlenose dolphins.
There are some great offers on at the moment. Unwind with Visit Mandurah's amazing package deals for two from only $239. Stay at The Sebel Mandurah or Seashells Mandurah, cruise with Mandurah Cruises and dine with Catch22 Tapas & Cocktail Lounge or Flics Kitchen.
For an accommodation option with a difference, Mandurah Houseboats is offering a 30 per cent discount for all August bookings. The fully equipped houseboats allow you to explore the waterways of the Peel Inlet, Harvey Estuary and the Murray River. You can drop anchor and relax in a secluded hide-away, or you can visit the many restaurants, taverns, cafes, historical sites, islands with protected wildlife, and even central Mandurah's vibrant cappuccino strip.
Mandurah is filled with incredible public art but not all of it is as obvious as the silver metal heart sculpture on Mandurah's Eastern Foreshore. Visitors can take their time discovering hidden gems with Mandurah's Intagram trail, offering plenty of great 'gram moments. Along the way, have a virtual catch up with Mandurah's newest ambassador, Justin Langer, and see all Mandurah has to offer via this smart device link. Still feeling arty? Plein Air Down Under – Mandurah's largest outdoor painting festival will be back at the end of September.
As well as arts and nature, Mandurah – Mandjoogoordap -  has a fascinating Aboriginal history, world class golf courses and brand new, state of the art shopping experiences.
Want to know more? Adrian Richardson and his team from Good Chef Bad Chef visited Mandurah earlier this year to film three recipe stories and four postcard segments. Watch the clip for some great inspiration. Or check in with Visit Mandurah's artist in residence Emma Blyth for her inside knowledge on the best places to eat and drink.
Article submitted by Visit Mandurah