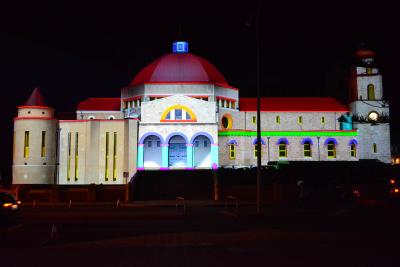 The Balayi – Open Your Eyes! Festival was curated to celebrate the first arrival of Europeans to the west of Australia 400 years ago.
PAV brought the 100-year-old St. Francis Xavier Cathedral in Geraldton to life with custom illusion and perspective style projection mapping mixed with custom animated underwater 3D content complete with cuttlefish, dolphins, jellyfish, sharks, turtles, coral and plant life.
This was coupled with live GoPro footage of fish and coral filmed at Abrolhos and content was projected in UHD 4K resolution with 5 projector towers.
This was mirrored by video stories being projected onto the Queens Park Theatre directly opposite the Cathedral, which featured stories from local fishermen and indigenous story tellers giving their side of the Abrolhos story as well as some history about the Dutch visitors.
In July 1619 Commander Frederick de Houtman of the Dutch East India Company came across the coastline of Southwest Western Australia and the Houtman Abrolhos Islands.
 The catchcry "Balayi – Open Your Eyes" acknowledges that even though Houtman saw no signs of people ashore, it was a long-occupied land.