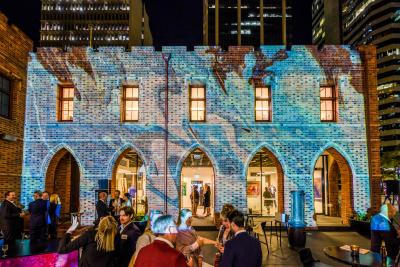 PAV Events recently collaborated with Perth-based abstract artist Caroline Christie-Coxon to projection-map her Signature Gallery onto the façade of the Old Cloisters Building on St Georges Terrace in a stunning display for a VIP showcase on 9 May.
The projection featured Caroline's Limited-Edition collection and provided the perfect backdrop to a private function and gallery viewing. PAV worked closely with Caroline to adapt the content for the projection, which included animated interpretations of a few pieces of her collection produced by their talented Multimedia team.
PAV General Manager Lee Williams said that the event was a huge success.
"Working with Caroline has been real pleasure," said Lee.
"She is such a key figure within the Perth art scene, and to have the opportunity to turn her pieces into an exclusive light installation has been another great experience for the team. We thank Caroline for trusting PAV to bring her concept to life for her guests and hope to work with her again in the future."