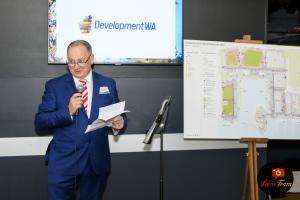 The State is your oyster when you're a PCB member, so it was only fitting that our October Member Networking was held at Oyster Bar, Elizabeth Quay.
The event, held on 16 October, saw one of the strongest turnouts yet at a member networking event, and for the first time was open to Executive Assistants whom were invited thanks to the Bureau's recent work with the Executive Assistant Network (EAN).
With eight EA's in attendance, the event represented an opportunity for members to build relationships with local corporates as well as networking with industry counterparts to get an update on new and                                                                                     exciting developments around the State.
This Member Networking event also featured a presentation from Patrick Ward, Managing Director of Development WA (formally MRA) on the latest developments around the State, including the future of Elizabeth Quay, with the Ritz Carlton set to open in November and further construction underway on new infrastructure.
Our thanks go to Oyster Bar for setting the scene for this event with a stunning venue with incredible views over the Swan River at sunset and generous prizes, BBC Entertainment for creating the mood with a talented acoustic performer, The Scene Team for capturing every moment with skilled photography, and Development WA for the inside scoop on the future of Perth.