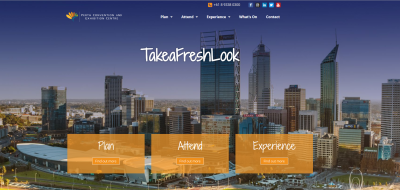 Perth Convention and Exhibition Centre (PCEC) is delighted to announce that their much-anticipated new website has launched.
PCEC's General Manager, Nigel Keen said that the new website will bring unparalleled value to both event organisers and visitors, giving the ability to access information at their fingertips, visualise venues and get involved with events throughout the centre.
With the fresh website, PCEC will also be unveiling new visual elements of their brand which will feature throughout the website and on collateral such as menus, event                                                                                                                 guidelines and manuals, floor plans and more.
"We're confident that these further design explorations will inject a surge of modernity into our existing brand," Nigel said.
"Our brand refresh comes during a time when Perth, as a destination, has evolved into a vibrant and exciting city that now boasts new precincts filled with some of Australia's best new bars and restaurants. Along with exciting new hotels, Perth is now a must-visit destination that presents great value to those wishing to host their next business event, exhibition or conference at PCEC."
Situated in the heart of Perth's CBD, adjacent to the Elizabeth Quay waterfront and the Swan River, PCEC's facilities perfectly complement what the city has to offer. From State-of-the-art conference facilities to seamless transfer between pavilions, meeting rooms and theatre, the Convention Centre typifies ease and quality for visitors, event organisers and tourists.